Organic donkey milk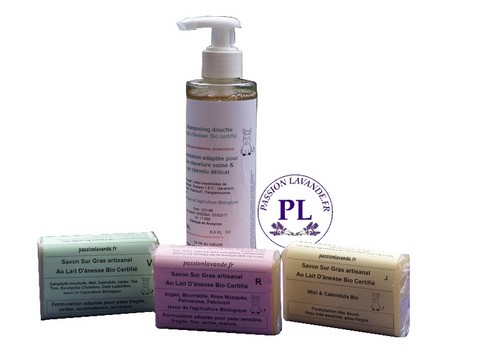 Toilet soap surgras craft(home-made) in the Organic ass's milk, of vegetable base(basis) Organic 100 %, enriched in Organic Honey,
Worked under cold conditions
99,9 % of ingredients are of natural origin
87,14 % of ingredients arise from the organic farming
This soap contains no colouring agent, or preservative(conservative) or other
Ingredients of synthesis.
This shampoo gives a shower in the organic ass's milk (15 %) formulated without added sodium chloride, is very soft and economic from part its concentration.
Producing a light and fine foam (produced little foaming), fast rinsed, leaves you the body
and the healthy and well- balanced hair.
Caractéristiques
Formulation adapted for fragile skin, Irritated, eczémateuse, acned. Green
Healing, anti-inflammatory and analgesic, Bring flexibility and elasticity to the skin. Favor the regeneration of cutaneous tissues grace(favor) has its anti-infectueux assets(active persons).


Formulation adapted for sensitive, fragile, fine skin, séche, mature. Pink
The oil of musky rose this oil rich in essential fatty acid possesses considered virtues (anti age, done root canal work, dehydrated skin …)



Very soft formulation Very sensitive skin, Young skin, Baby. Yellow
AB organic farming
Toilet soap on craft(home-made) fat in the ass's milk (10 %) whole AB, enriched in honey AB, macérât oily of calendula AB.
100 ml or 250ml Ass's milk Organic 15 %
The formulation of this shampoo gets you a healthy, supple(flexible) and brilliant hair, while protecting a delicate scalp.